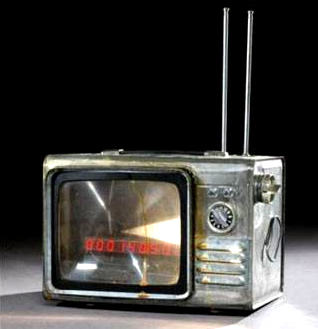 Ed Kienholz
1927 Born in Fairfield, Washington
1994 Died in Hope, Idaho
1953-73 Resident of Los Angeles
Nancy Reddin Kienholz
1943 Born in Los Angeles, California
Lives and works in Hope, Idaho; Houston, Texas and Berlin, Germany
No início da década de 70, Kienholz recebeu uma doação que lhe permitiu trabalhar em Berlim com sua mulher e colaboradora, Nancy Reddin, que ele havia conhecido em Los Angeles, em 1972. Seus mais contundentes trabalhos, durante esse período, foram os Volksempfänger (aparelhos de rádio do período Nacional Socialista na Alemanha Oriental). Desde 1972, sua obra forjou-se em co-autoria com a esposa. Em 1973, Kienholz e Reddin se mudaram de Los Angeles para a cidade de Hope, Idaho, e nos vinte anos seguintes dividiram-se entre Berlim e Idaho. Kienholz morreu em Idaho em 1994.
Edward Kienholz (October 23, 1927 – June 10, 1994) was an American installation artist whose work was highly critical of aspects of modern life. He often collaborated with his wife, Nancy Reddin Kienholz, from 1972 until his death. Collectively, they are referred to as "Kienholz".
I. BIOGRAPHY
In 1927, Ed Kienholz was born in Fairfield, WA. He studied briefly at a handful of universities across the West Coast, but never received a degree or any formal art training. In 1953, he moved to Los Angeles, where he eventually opened the Now Gallery in 1956. After a year, Kienholz closed the Now Gallery to open the Ferus Gallery with then graduate student Walter Hopps and Beat poet Bob Alexander.
In the years of its early existence, the Ferus Gallery was housed in a makeshift structure behind Streeter Blair's antique shop at 736A North La Cienega Boulevard. The gallery operated more or less as a cooperative where artists worked closely together, sharing ideas and providing each other with critical support. Kienholz managed the gallery space during the day, while also working in his studio that was housed in the gallery's backroom. During its first years of operation, it soon became clear that the Ferus Gallery was a breeding ground for California's avant garde.
One of the Ferus Gallery's earliest exhibitions included paintings by Kienholz, Jay DeFeo, and John Altoon. This was the first show that Kienholz' "wood reliefs" received attention from legendary Los Angeles Times critic Arthur Millier. Known for his conservative views on Contemporary Art, Millier stated that Kienholz' constructions were way over his "aging head." Kienholz had begun creating these wall pieces in 1954 with the idea that he would make them "as ugly as possible" in an attempt to "understand beauty." The process of creating these works drew from the tradition of Junk Art that was prominent in the 1950s on both coasts.
Kienholz found his materials in the back alleys of Los Angeles' commercial streets. In most cases, the paint came from auto shops (partially used cans of Duco for 10 cents each), backrooms of house paint dealers, and even from unsuspecting local businesses that left their garage doors open. The frames were often the most expensive material and were made from wood lath strips purchased at $1.00 a bundle. These "wood reliefs" were often created simultaneously. After outlining his composition, Kienholz would leave the background to dry. He then would pour paint directly onto the plywood, spreading the paint around with a kitchen broom. Kienholz believed that this application process was a way of "getting into" the surface of the painting, "swimming around in it, like in a bathtub." After the paint was applied, his drawings would immediately vanish under the thick, industrial paint. As a result, he would outline his ideas with nailed on pieces of scrap wood that also divided the spatial arrangement. Kienholz would add satirical titles to the more figurative constructions, while choosing to leave the more abstract works untitled.
It is interesting to note that while Kienholz was exhibiting these creations at the Ferus Gallery on the West Coast, Robert Rauschenberg was also exhibiting his first "combines" (paintings with found objects attached to them) at the Leo Castelli Gallery in New York City. While Rauschenberg has acknowledged the immense influence that Dadaist Marcel Duchamp's "ready-mades" and found objects had on him, Kienholz's inspiration at the time was much harder to pin down. As an artist working in Los Angles during the late 1950s, Kienholz was mostly cut off from the new styles developing in New York. It was not until 1960 that Rauschenberg's "combines" were exhibited on the West Coast at the Dwan Gallery in Westwood. Kienholz' constructions draw closer inspiration from the Beat Art of San Francisco and the close-knit community of the early Ferus Gallery. In the same Ferus show that Kienholz exhibited his "wood reliefs," artist Jay DeFeo was also using heavily applied layers of paint in her works that were shown.
By the end of 1958, Kienholz abandoned the wood relief concept for more three- dimensional assemblages. His murky wood reliefs ultimately became more intricate with the attachment of found objects until they eventually led him to the idea of freestanding assemblages, such as John Doe (1961). Today, he is best remembered for his tableaux such as Roxy's (1961-62) , Barney's Beanery (1965) and Backseat Dodge '38 (1964). From the 1970s on, Kienholz collaborated on works with his wife and fellow artist Nancy Reddin.
II. CHRONOLOGY
1927 Born in Fairfield, WA
1948 Attends Eastern Washington College of Education in Cheney and Whitworth College in Spokane
1952 or 1953 Moves to Los Angeles
1954 Begins to make wall pieces
1956 Opens the Now Gallery. Introduced to Walter Hopps with whom he co-organizes the All-City Art Festival. Exhibits at Hopps' Syndell Studio.
1957 Opens the Ferus Gallery with Hopps
1958 Sells his share of Ferus to Irving Blum. Purchases a home with studio space in Laurel Canyon
1959 Exhibits first assemblages at the Ferus Gallery
1960-1 Creates his first tableau, Roxy's
1962 Roxy's exhibited at the Ferus Gallery
1966 Retrospective held at the Los Angeles County Museum of Art. Begins to summer in Hope, ID
1966-67 Creates Concept Tableaux
1968 Roxy's exhibited at Documenta 4 in Kassel, West Germany
1969 Exhibits a series titled Watercolors at the Eugenia Butler Gallery
1970-1972 11 + 11 Tableaux exhibition opens in Stockholm. Marries Nancy Reddin.
1973 Kienholzes establish a studio in Berlin
1975 Creates Volksempfangers series
1977 Kienholzes open the Faith and Charity in Hope Gallery in Idaho and begin to work on the White Easel series.
1981 Ed officially declares that all art created after 1972 be co-signed by Nancy Kienholz
1984 Edward and Nancy Reddin Kienholz opens at the San Francisco Museum of Modern Art and travels to four cities in the U.S.
1986 LACMA acquires The Back Seat Dodge '38
1989 Survey of the Kienholzes work tours through Germany
1994 Dies on June 10 from a heart attack while hiking in the mountains near his home in Hope, ID
1996 Retrospective held at the Whitney Museum of American Art in New York
III. COLLECTIONS
Hirshhorn Museum and Sculpture Garden, Washington D.C.
Los Angeles County Museum of Art
MacKenzie Art Gallery, Saskatchewan
Museum of Contemporary Art, Los Angeles
Museum of Modern Art, New York
Nasher Sculpture Center, Dallas, Texas
National Gallery of Art, Washington D.C.
Norton Simon Museum, Pasadena, California
San Francisco Museum of Modern Art
Smithsonian American Art Museum, Washington D.C.
Walker Art Center, Minnesota
Whitney Museum of American Art, New York City
IV. EXHIBITIONS
Selected Solo Exhibitions:
1956 Syndell Studio, Los Angeles, CA
1958 Exodus Gallery, San Pedro
1958, 1960, 1962 Ferus Gallery, Los Angeles, CA
1961 Pasadena Art Museum
1963 Alexander Iolas Gallery
1963, 1964 Dwan Gallery, Los Angeles, CA
1965, 1967 Dwan Gallery, New York, NY
1966 Los Angeles County Museum of Art
1967 Washington Gallery of Modern Art
1968 Boise Gallery of Art, Idaho
Selected Group Exhibitions:
1956, 1957, 1958 San Gabriel Valley Artists, Pasadena Art Museum, CA
1958, 1959, 1960, 1962 Ferus Gallery, Los Angeles, CA
1958 Exodus Gallery, San Pedro, CA
1958 Vincent and Mary Price Collection, Municipal Art Gallery, Barnsdall Park, CA
1959 Californians Collect Californians, Westside Jewish Community Center, Los Angeles, CA
1960 Recent Acquisitions, Richard Feigen Gallery, Chicago, IL
1961 The Art of Assemblage, Museum of Modern Art, New York
1962 Fifty California Artists, San Francisco Museum of Modern Art, CA
1963 Dealer's Choice and My Country Tis of Thee, Dwan Gallery, Los Angeles, CA
1964 Boxes, Dwan Gallery, Los Angeles, CA
1964 The L.M. Asher Family Collection, University of New Mexico
1964 Annual Exhibition, 1964, Contemporary American Sculpture, Whitney Museum of American Art, New York
1965 The Virginia Dwan Collection, University of California, Los Angeles, CA
1966 Annual Exhibition, 1966, Contemporary Sculpture and Prints, Whitney Museum of American Art, New York
1966 68th American Exhibition, Art Institute of Chicago
1966 Norman MacKenzie Gallery, Regina, Saskatchewan, Canada
1967 American Sculpture of the Sixties, Los Angeles County Museum of Art, CA
1967 Protest and Hope, New School Art Center, New York
1967 Language to be Looked at and/or Things to be Read, Dwan Gallery, New York
V. BIBLIOGRAPHY
Coplans, John, Los Angeles 6, Vancouver, Canada: Vancouver Art Gallery, 1968.
Factor, Don, "Edward Kienholz," Artforum, p. 24-25.
Hopps, Walter et al., Kienholz: A Retrospective, New York, NY: Whitney Museum of American Art, 1996.
Pincus, Robert L., On a Scale that Competes with the World: the Art of Edward Kienholz and Nancy Reddin Kienholz, Berkeley: University of California Press, c. 1990.
Tuchman, Maurice, Edward Kienholz, Los Angeles County Museum of Art, 1996.
Upshaw, Reagan, "Scavenger's Parade- Assemblages and Installation Art, Edward Kienholz, Whitney Musuem of American Art, New York, New York," in Art in America, Oct. 1996