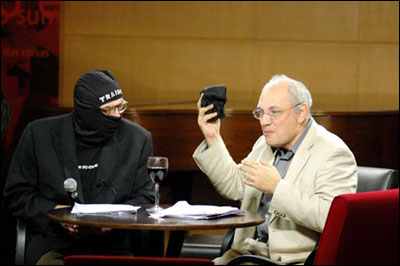 Poetry in a Time of War and Banality
International Meeting
Curatorship: Regis Bonvicino & Alcir Pecora
Bonvicino and Bernstein, Traitor and Original, the mask of the original unveiled.
1. PROPOSAL
The twentieth century appears to have bestowed on us a legacy of constant and seemingly irreparable disaster. It left us with the aporia that poetry, as the synthesis of intellectual and creative activity, has become incapable of dealing with stupidity and barbarism. This is evident in the Nazi and Fascist crimes as well as in the institutionalization of economic violence in a world that is becoming both global and disorganized at the same rate, with catastrophic consequences in the form of local, ethnic conflicts moved by hate, sectarianisms, and private tragedies. What remains of the nationalist projects has become a strategy to strengthen corporate interests; at the same time, internationalism, rather than opening up to pluralistic and democratic human experiences, has boiled down to a strategy of exploitation—economic, touristic, and for the sake of legitimizing racial and social prejudices.
In the beginning of this century, a new form of such violence has begun to emerge, one derived precisely from its continued existence: it is the muffling, the dampening down of the scene of destruction. An impotent creation –lagging behind technology, the market and a voracious media and communications industry, lacking any political impact or liberating aesthetic–, it survives by shrinking poetic goals or the audience for poetry. Skepticism vis-à-vis revolutionary transformation, the consistency of the avant-gardes or ideological dogmatism has not resulted in actions that are freer, as we would like to think, but, instead, has given us a more garrulous production in increasingly homogeneous environments. Joint property of peers, corporate genre practices—all these fragment and render poetic production banal. Parochial activity takes offence at criticism and debate. Condescendence, lack of courage, a pact of peers, mutual forgiveness make evident the scant seriousness accorded to poetry, as well as the disbelief in its transformative power. But what type of real production could relinquish the power to transform?
An impressive consequence of that legacy of catastrophic continuities (which precisely dampens down and absorbs disaster as a normal occurrence) is the conformity poetry displays vis-à-vis an average production. In that environment, writing becomes an inconsequential habit, a "hobby"—i.e., a activity of one's childhood or youth and that one abandons upon reaching adulthood, or that is continued merely as a weekend activity–, or instead, a professional occupation, as any other, a modest way to earn a living alongside other editorial or university-teaching tasks. In such times, there is no more reason to expel the poets from the Republic –as Plato would have it—which does not mean a lack of spiritual progress: apparently, no poet is perceived as dangerous anymore, as incongruous or rapturous, to the point of affecting the disorderly order of contemporary uncivil life.
How to respond to such a lack of vision and of urgency peculiar to poetry, a realm that by definition is hostile to mediocrity? How to resist that barbarian shrinking of horizons, proportional to the redundant proliferation of garrulous writing? Or, at least, how to denaturalize disaster and reconquer the pain emerging from it? Can poetry still be more than an affirmation of frivolity, arrivisme, and intellectual affectation or –on the opposite end of the spectrum– of loutish modesty and a hopeless remainder? If we don't already have plans for the future, it's important to say that the present also does not belong to us: the dampening down of expectations produces indifference, alienation and routine, not the enjoyment of a pleasant life. What can poetry do against this state of things which seems to have no end? And if it can do nothing, can it be more than frivolity?
2. GUEST ARTISTS AND CONTACTS
Para debater essas questões e ler os seus próprios poemas, com suas questões e alternativas, convidamos 8 poetas de primeiro time: 5 poetas internacionais, de diferentes línguas e experiências poéticas, e 3 brasileiros, a saber:
3. DATES
May:
Abertura. Dia 10. Arkaddi Dragomoshenko
17. Roberto Piva
24. Eduardo Milán
31. Leevi Lehto
June:
7. Yao Jing Ming
14. Paulo Henriques Britto
21. Nuno Ramos
Encerramento. Dia 28. Charles Bernstein
4. TITLES AND ABSTRACTS
Arkadii Dragomoshchenko
Title of talk:
"On the Superfluous"
Abstract:
The process of writing is a process of endless and leading re-reading, i. e., displaying the "self" at the margin of the experience, where poetry itself, as a form of the "speech," is impossible yet where in fact it reveals the possibility of "becoming."
Résumé:
My name is Arkadii Dragomoshchenko. I'm retired but I continue to run a seminar entitled "Another Logic of Writing" at the "Smolny Institute of Liberal Arts and Science" (an affiliate of New York's Bard College in Saint Petersburg, Russia). Also I work for the "Academic Project Press" as an editor… as well as a journalist for few monthlies. In conclusion — I'm a member of the Russian Union of Writers.
Leevi Lehto
Title of talk:
"Poetry, Power, Freedom"
Abstract:
I'm interested in poetry as a peculiar, and possibly crucial, form of critique – i.e. of ideologies and power structures – and how this is both made possible by and requires a certain absolute freedom of content and form. This is especially important in our time – which, indeed, is that of both War and Banality: in the face of ready-made ideologies, poetry can offer a method of (constant, open-ended) questioning.
Résumé:
Leevi Lehto, born in 1951, is a Finnish poet, poetry activist, and translator of, among others, Ashbery, Keats, Bernstein, Althusser, Deleuze & Guattari, and Joyce. His first volume of poetry in English will be published in September 2006 by Salt.
For more info, see http://www.leevilehto.net.
Eduardo Milán
Título: UNAS PALABRAS SOBRE EL TEMA
Una reflexión sobre el estado actual de la poesía latinoamericana  (en castellano y en portugués) a la luz de sus perturbaciones heredadas (cese de la " tradición" vanguardista, carencia de espíritu, escasa o nula resistencia de una concepción poética alteradora) y la contingencia histórico-social avasallante no sólo para la poesía sino para cualquier manifestación humana íntegra. Charla entrecortada por una lectura de mis poemas.
Eduardo Milán é poéta y ensayista. Es Catedrático de Teoría literaria y Poesía latinoamericana en la Universidad del Claustro de So Juana. Imparte, de igual modo, cursos en otras universidades de México (UNAM, Casa Lamm, Universidad Iberoamericana).
Title of talk:
"Some Words on the Subject"
Abstract:
This paper will be a reflection on the current state of Latin American poetry (in Spanish and Portuguese) in light of its inherited disturbances (the end of the "tradition" of the avant-garde and the lack of spirit, the minimal or non-existent resistance of a poetics of change) and social and historical contingency which overpowers not only poetry but all honest human expression. The talk will be interspersed with a reading of my poems.
Résumé:
Eduardo Milán is a poet and essayist. He is Professor of Literary Theory and Latin American Poetry at the Universidad del Claustro de Sor Juana in Mexico City. He has also taught at other universities in Mexico, including UNAM, Casa Lamm, and Universidad Iberoamericana.
Charles Bernstein
Title of talk:
"Poetics of the Americas"
Abstract:
Taking José Martí's "Our America" as a starting point, an attempt to articulate North-South affinities of form and project, without losing sight of the particularity of the poetries that emerge in English, Portuguese, Spanish, French and in relation to indigenous languages.
Résumé:
Charles Bernstein was born in New York City in 1950. He has published over twenty collections of poetry and three collections of essays, including My Way: Speeches and Poems and With Strings, both from the University of Chicago Press and Republics of Reality: Poems 1975-1995, from Sun & Moon Press. His most recent book is a libretto for an opera by composer Brian Ferneyhough, Shadowtime (Green Integer). He is the editor of Close Listening: Poetry and the Performed Word (Oxford University Press). From 1978-1981 he co-edited L=A=N=G=U=A=G=E magazine, which was a focal point for a movement of radically innovative poetry and poetics. In the 1990s, he co-founded and directed the Poetics Program at the State University of New York–Buffalo, where he was a SUNY Distinguished Professor. Bernstein is also executive editor of the Electronic Poetry Center (http://epc.buffalo.edu/) and co-director of PennSound (http://www.writing.upenn.edu/pennsound/). Web author page at the EPC. Bernstein is currently Regan Professor of English at the University of Pennsylvania.
Yao Feng
Title of Talk:
"Chinese Poetry and the Internet"
Abstract:
In a country like China that is making big strides towards economic globalization, poetry has ceased to play the role it traditionally did in social and cultural life, having become instead a literary practice limited to only a few people. In spite of that, poetry has never been as accessible to those people as it is now. With a greater creative freedom and the widespread use of the internet, poets can write more freely and can quickly post their works on internet sites. There are in China hundreds of sites and many "civil" (i.e., non-governmental) poetry magazines dedicated exclusively to poetry. Fueled by the new means of communication and by a growing openness, Chinese poetry appears vigorously alive, displaying a variety of styles and new tendencies.
Résumé:
Yao Feng (Yao Jingming's literary pseudonym) is an Assistant Professor at the Institute of Social Sciences and Humanities of the University of Macau.
Roberto Piva
Title of Talk:
"Strange Signals from Saturn"
Abstract:
Poetry as an art of the minorities and of non-conformity. Transgression as an absolute value for poetry. Reading of selected passages chosen from his recently republished collected works (including Paranóia [Paranoia], Piazzas [Piazzas], Abra os olhos e diga ah! [Open Your Eyes and Say "Ah!"], Coxas [Thighs], 20 Poemas com broccolis [20 Poems with Broccoli], Quizumba [Hubbub], Ciclones [Cyclones]), as well as unpublished poems.
Résumé:
Roberto Piva is a native of São Paulo, he lives in São Paulo, he has no institutional affiliations and lives off his work as a poet and public speaker.
Paulo Henriques Britto
Title of Talk:
"The Place of the Poet and of Poetry Today"
Abstract:
Some reflections on the role of the poet and of poetry in a time that has been characterized by Octavio Paz as "post-utopian": an entire historical cycle that began in the Romantic period seems to have come to an end, and poets and artists in general are forced give up the hyperbolic self-image that had been attributed to them in the last two centuries.
Résumé:
Paulo Henriques Britto is Professor in the Literature Department at PUC-Rio, where he teaches Portuguese language, translation and creative writing. He is also a translator, poet, and fiction writer. His most recent works include: Macau [Macau] (2003) e Paraísos artificiais [Artificial Paradises] (2004) (both published by Companhia das Letras).
Nuno Ramos
Title of Talk:
"Poetry from the Point of View of Its Raw Material"
Abstract:
Literature seen as a thing, with weight, as voice, as a body, as a breath, as wind. As the music from a clay bagpipe that breaks when it is played.
Résumé:
Nuno Ramos was born in 1960 in São Paulo, where he lives and works. He received a degree in philosophy from the University of São Paulo. He is a visual artist and writer. His most recent shows include: Instituto Tomie Ohtake [Tomie Ohtake Institute] (São Paulo, 2006); Morte das Casas [Death of Houses] (Centro Cultural Banco do Brasil, São Paulo, 2004); Pinacoteca do Estado de São Paulo [Art Gallery of the State of São Paulo] (São Paulo, 2004); and Encontro com a arte: Nuno Ramos e Frank Stella [A Meeting with Art: Nuno Ramos and Frank Stella] (Nave 5, São Paulo, 2004). He has published the following books: Cujo [Whose] (1993) e Pão do Corvo [The Bread of the Crow] (2002), both printed by Editora 34, and Minha Fantasma [My Female Ghost] (self-published).
Bonvicino, Leevi Lehto (seated) and Alcir Pécora.