Eduardo Kac
Fall 2015 | Highlights
Eduardo Kac, Tesão, 1985. Minitel artwork, 9.64 x 9.8 x 9.64 in (24,5 x 25 x 24,5 cm). Edition of three.
Electronic Superhighway
Whitechapel Gallery, London
January 29 – May 15, 2016
Kac's Minitel artworks (pre-web digital network) will be featured in Whitechapel Gallery's landmark exhibition that highlights the impact of computer and internet technology on art.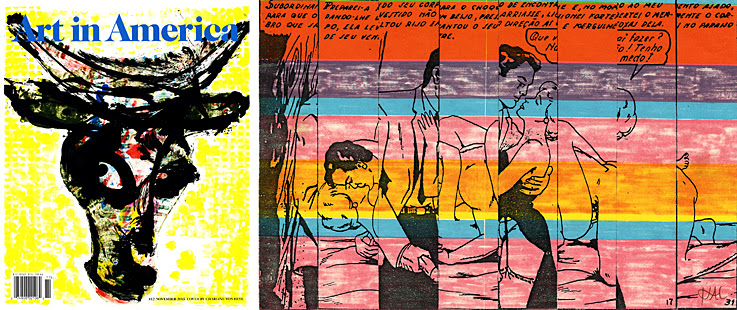 Eduardo Kac, Que vai fazer?, 1982. Electrostatic monoprint, 4.9 x 7 in (12,5 x 18 cm) [right].
Art in America magazine
November 2015
The Movimento de Arte Pornô (Porn Art Movement), 1980-1982, is featured in an article by Zanna Gilbert in the current issue of Art in America magazine.
TEDx, Vienna
October 2015
Eduardo Kac gave a TED talk in Vienna in which he discussed his development of Bio Art from the 1990s to the present.
Eduardo Kac, Lagoglyph Animation. Real-time loopless parametric animation, dimensions variable. Edition of five.
A View from the Cloud
Streaming Museum, New York
September 2015
Lagoglyph Animation was featured in Streaming Museum's public projection at Dag Hammarskjold Plaza in New York. Lagoglyphs are a series of works that create a visual language evolving from the transgenic artwork GFP Bunny.
Eduardo Kac, Aromapoetry, 2011. Artist's book with box and slipcase, twelve custom-made aromas enmeshed in a nanolayer of mesoporous glass, letterpress text and graphics, 16 2ml vials with engraved titles. Edition of ten.
Volatile!
Poetry Foundation, Chicago
December 11, 2015 – February 19, 2016
The work Aromapoetry will be presented in this exhibition that explores the intersections of poetry and scent. Aromapoetry consists entirely of olfactory compositions created by the artist.
Eduardo Kac, Lagoogleglyph II, 2015. Google Earth work, 32 x 34 ft (10 x 12 m).
Lagoogleglyph
Lagoogleglyph II is now permanently installed on the roof of Es Baluard Museum of Modern and Contemporary Art in Palma de Mallorca, Spain.
Eduardo Kac, Amalgam, 1990. Hologram, 3.9 x 2.9 in (10 x 7,7 cm).
Kac's holograms were/will be displayed in exhibitions in Paris and Mexico.
Variations
Hall des Blancs Manteaux, Paris
October 19 – 25, 2015
Electronic Literature: Hybrid Scenarios
Universum, Mexico
October 9 – December 6, 2015
Electronic Literature: Politics and the Body in the Digital Present
Centro Cultural Tlatelolco, Mexico
November 12 – January 17, 2016
Eduardo Kac, Edunia Seed Packs I-VI, 2009. Hand-made paper objects with Edunia seeds and magnets, 4 x 8 in (10,16 x 20,32 cm) each. Edition of three.
TRANSSPECIES – an assembly across species lines
Dome of Visions, Copenhagen
November 6 – 8, 2015
Edunia Seed Packs, from the Natural History of the Enigma series, were presented at the festival.
Eduardo Kac, Luz, 1981. Typewriter art, 13 x 8.5 in (33 x 21,5 cm). Edition of three. Collection of Marvin and Ruth Sackner (left); Eduardo Kac, Genesis, 1999. Transgenic work with artist-created bacteria, ultraviolet light, internet, video, dimensions variable. Edition of two (right).
Works from different phases of Kac's career are featured in three major new books just published by Thames and Hudson: The Art of Typewriting, by Marvin and Ruth Sackner; Bio Art: Altered Realities, by William Myers (above) and Art since 1989, by Kelly Grovier (below).
Eduardo Kac, Cypher, DIY transgenic kit with Petri dishes, agar, nutrients, streaking loops, pipettes, test tubes, synthetic DNA, booklet, 33 x 43 cm, 2009.
2015 Institutional Collections
Museum of Modern Art, New York
Archivo Lafuente, Madrid
Museum of Contemporary Art, São Paulo
Artothèque, Lyon
Art Museum of Rio, Rio de Janeiro